DEGREE: NAVAL ENGINEER "accredited by the Engineering Accreditation Commission of ABET, www.abet.org"
---
DESCRIPTION OF THE PROGRAM
The Naval Engineering (NE) program curriculum has been designed to prepare undergraduates for their personal and professional development. It is based on courses related to the basic sciences, which prepare students for their professionalization in engineering. It also includes several courses within the general education area, in order to fulfill the double function of complimenting technical aspects of the degree with the students' personal development.
---
MISSION OF THE PROGRAM
To train professionals of excellence in Naval Engineering, with a wide cultural sensibility, environmental and social ethic, with critical thinking skills and entrepreneurship and management skills to solve problems of their specialty, with aptitudes to do research and spread new knowledge and solve sector problems, individually and as members of interdisciplinary groups.
---
PROGRAM EDUCATIONAL OBJECTIVES
The Naval Engineering graduates from ESPOL, after 5 years of professional practice, will have:
Participated in significant ship projects, managing multidisciplinary teams

Contributed to the development of technological tools to design vehicles and structures proper for the marine environment

Developed technical activities demonstrating ethical behavior, and social, economic and environmental responsibility

Applied new technologies and knowledge whilst keeping up-to-date with developments in the area of naval engineering
---
NAVAL ENGINEERING STUDENT OUTCOMES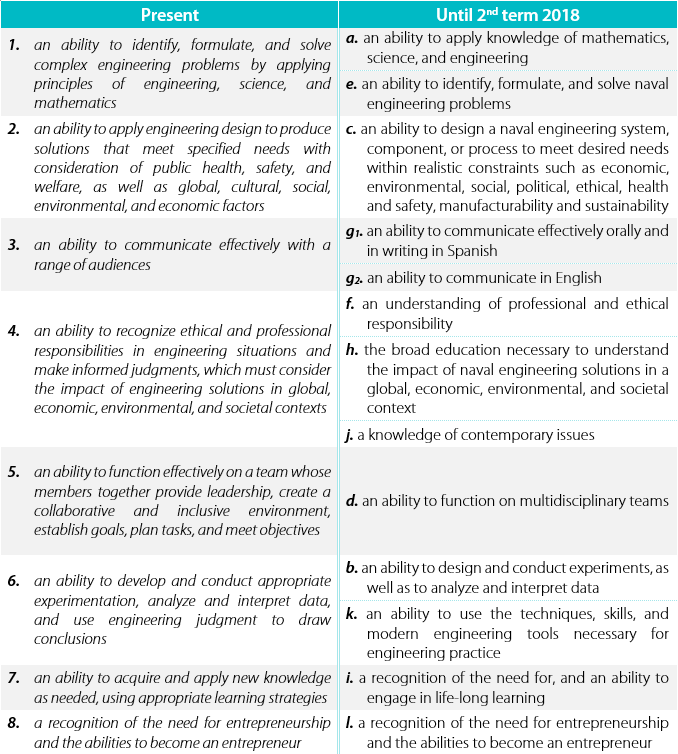 ---