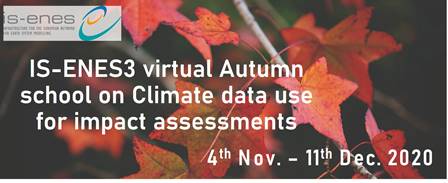 IS-ENES3 1st Virtual Autumn school
on climate data use for impact assessments !
In November and December 2020 the IS-ENES3 consortium will organize an Autumn School 'Climate data use for impact assessments'. The course will explain the developments in the European climate model infrastructure and update the participants about the availability of data products and assessment tools. It will also provide insights in do's and don'ts of impact studies, and discuss the information needs of the participants. It will be organized as a virtual course with 2 online sessions during six weeks, combined with self-study and case studies in small groups. There will be no fee for participation.
What is the aim of the School? It is to help researchers make better use of available climate data and knowledge, in order to produce higher quality research outputs and services. This, in turn, will help to combat and adapt to climate change. It also aims to develop a network of researchers who can turn to each other in the future for advice and cooperation.
Who organises it ? Researchers from the IS-ENES3 consortium will interact directly with the participants. The IS-ENES3 consortium is involved in producing the CMIP6 data which will underpin the next IPCC report, expected in 2021-2022. Through the Schools, the IS-ENES consortium intends to make its knowledge available for scientists all over Europe.
For whom? This virtual School is for climate scientists, Vulnerability, Impact and Adaptation (VIA) researchers and consultants offering climate services. We aim to create a mix of these different disciplines so that participants can learn from each other. As a result, climate scientists will better understand what kind of outputs VIA researchers need. VIA researchers will learn how to use the products of climate science in an effective and valid way. Participants can be PhD students, Postdocs, professionals and consultants, including climate services providers. An MSc in the natural sciences is required for fruitful participation. The number of participants will be limited at 20 to create a committed group.
What is the programme? The total length of the Autumn school is six weeks. In the first three weeks, 2-3 hour virtual meetings will be held on Wednesday and Friday mornings. Interactive lectures on climate models, data, impact modelling and climate services are provided. Participants can bring in their own case study and will work on these in groups of 2-3 persons during the last three weeks. During these weeks, teachers from IS-ENES will be available for questions and help.
Find the detailed agenda and all information on the application procedure (before October 15th) on the IS-ENES3 official website.
If you have any questions, please send an email to judith.klostermann[a]wur.nl
Please do not hesitate to forward to anyone interested !