Benites Muñoz, Daniela Andrea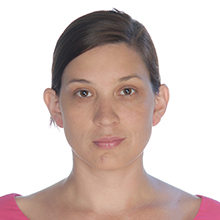 Otros Cargos:
Cursando Doctorado en UCL, Reino Unido
Información de Hoja de Vida
Estudios realizados:
2012 MSc. Offshore Engineering, Newcastle University, UK, 2014
Realizando Ph.D
Experiencia Académica:
Faculty of Maritime Engineering, ESPOL, Full time, since October 2014
Premios:
Scholarship Holder of the SENESCYT, II Opening of 2012
Membresía para profesionales y/o asociaciones científicas:
Society of Naval Architects and Marine Engineers (SNAME)
Experiencia Profesional:
Maintenance of Propulsion and Maneuvering Systems, Maridueña Shipyard, 2008
Ecuadorian Navy Shipyards, 2010
ISO9001, ISO14001 and ISM Code Auditor of the M/V "Galápagos Explorer II", Canodros S.A., 2011
Offshore Projects, SLEM S.A., 2012
Actividades Profesionales, Últimos 5 años:
Revision of the design of the propulsion system of two tug boats built under ABS Classification Rules. Supervision of the construction and installation of the shafts and flanges under the requirements specified, ASTINAVE, March 2010.
Perform internal audits of ISO 9001 and ISO 14001 standards and the ISM Code in the office of the tour operator and in the cruise ship "M/V Galapagos Explorer II" (now "M/V Silver Galapagos"), Canodros S.A., May 2011.
Planning, implementation of the fieldwork and report of the "Evaluation of the structural integrity of two PLEMs and their SPOOLs of two Monobuoys of OCP - Ecuador", SLEM S.A., October 2012.
Project engineer part of the design of a new CBM (Conventional Buoy Mooring) for 80,000 DWT tankers for PETROECUADOR, SLEM S.A., March 2013.
Publicaciones:
"Experimental Tests to determine the Influence of Flaps on the Resistance of an 11 m Planning Boat", Thesis for the BSc. In Naval Engineering, ESPOL, August 2012.
"Finite element analysis to predict additional fatigue life of a through-thickness cracking failure in stiffened panels", Thesis for the MSc. In Offshore Engineering, Newcastle University, 2014.