Joseph Villarreal Villarreal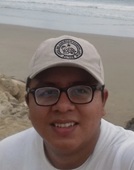 Información de Hoja de Vida
Estudios realizados:
Oceanic Environmental Engineer. ESPOL. 2016
Experiencia Académica:
Assitant Professor of Oceanographic Engineering program: Management of the Oceanography Laboratory and development of coastal process experiments and oceanography; technical support in research projects and participation in projects of Links with Society; Fieldwork and support for the analysis of recorded information
Experiencia Profesional:
In-situ collection of information | Geospatial analysis of bacterial loads (TCBS agar, TSA, Cetrimide, Chromagar) and biochemical conditions of water and soil (Carbon, Chlorophyll, BOD, COD)
Participation in 2 Oceanographic Cruises: oceanographic information collection using CTDO, measurement of SST by bucket thermometer, measurement of visual waves and marine currents using ADCPs
Analyst: "Update and redesign of the wharf of the PuertoGal maritime terminal" (Puertogal FIMCBOR Project).
Analyst: "Sedimentary, tectonic and tsunami risk transferences in the continental margin of Ecuador: marine and coastal geology and geophysics (GMAC)".
Analyst: "Analysis of microplastics and amino acids in the Ecuadorian sea aboard the BAE Orion, 2017".
Analyst: "Effects of anthropogenic contaminants in the planktonic and benthic communities of the coastal zones around Santa Cruz and San Cristóbal, Province of Galápagos, Ecuador".
Publicaciones:
Villarreal J.,  J.R. Bermúdez. (2017). Efecto de la cantidad de microplástico sobre la comunidad fitoplanctónica en la zona marino-costera de las islas Santa Cruz y San Cristóbal, Galápagos". (Poster Presentation). 
Nieto K., S. Mendoza. (2016) Evaluación de la carga bacteriana y actividad antimicrobiana de bacterias marinas por influencia de producción larvaria en la zona de Mar Bravo, Ecuador". (Collaborator in scientific article).