Carlos Eduardo Martillo Bustamante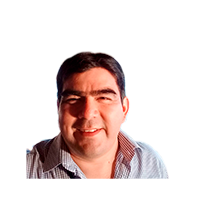 Información de Hoja de Vida
Estudios realizados:
Ph.D Sciences of the Planet and the Universe. Universidad Sophia Antipolis, France. 2012-2016
MSc in Geography and Geographic Information Systems. San Francisco University of Quito (UNIGIS), Ecuador. 2007-2009
Geologist engineer. Escuela Superior Politécnica del Litoral, Ecuador. 1996-2002
Experiencia Académica:
Professor of the Faculty of Engineering in Earth Sciences (FICT) and Faculty of Maritime Engineering and Marine Sciences (FIMCM) - ESPOL. 2007-present
Project Director: Marine and coastal Geology and Geophysics of the contention margin of Ecuador. Research project funded by ESPOL. 2014-2016
Multitemporal study through the use of S.I.G. and aerial photographs and marine geology study of the Bajo Alto sector - El Oro Province, for the prevention of beach erosion hazard. ESPOL - RISK SECRETARIAT. 2012
Implementation of Geographic Database for the optimal route analysis of the route of the Gas Pipeline on the Chongón - Pijio route. Petroecuador - ESPOL. 2011
Experiencia Profesional:
roject: Stratigraphic record of glacio-eustatic cycles and deformation during the Pleistocene along the Central margin of Ecuador. 2012-2016
Ocean Fund Research Project for Future Generation Hydrocarbon Projects and Protection of Critical Installations in the Provinces of Guayas and Santa Elena-PHASE I. 2008-2011
Technical Manager of the company MARTEAU S.A. 2012-present
Marine Geological Researcher 3. NATIONAL COMMISSION ON THE LAW OF THE SEA. 2007-2012
Expert in Geology, Marine Geophysics, Remote Sensing and Geographic Information Systems. INOCAR 2006-2007
Publicaciones:
Navarrete-Mier, F., F. Mato, T. Toulkeridis, R. Martinez, Y. Rojas-Agramonte, M. Palacios-Moreno, M. Carrera Fernández, A. Calles, Y. Parra, D. Merchán, F. Ormaza, J. Solis, C. Martillo, G. Loayza, M. Muthre, F. Michaud, JN. Proust, D. Lemos, E. Ochoa, D. Simón Baile. (2017). Memoria de la 1° Feria de Ciencia y Tecnología Marítima. REIMAR (Red Ecuatoriana de Investigación Marina, Marino-Costera y Gestión Marítima).
A. Gorshkov, K. Chunga, A. Soloviev, A. Michetti, G. Panza, C. Martillo. (2016). The correlation of the 16 April 2016 Ecuador earthquake M7.8 with the potential nodes (M6.5+) defined in Ecuador in 2010.
Proust, J.N., C. Martillo, F. Michaud, J.-Y. Collot, and O. Dauteuil (2016), Subduction of sea floor asperities revealed by a detailed stratigraphic analysis of the active margin shelf sediments of central Ecuador, Mar. Geol., 380, 345 –362, doi:10.1016/j.margeo.2016.03.014.
Thinon, I., J-N. Proust, E. Chaumillon, F. Paquet, V. Baudouin, M. Gonzales, T. Guérin, C. Guillon, M. Loquet, C. Martillo, C. Ortega. (2014). Evolution des connaissances sur la couverture méso-cénozoïque du plateau vendéen - apports de la campagne sismique SYRRE.
Ioualalen, M., T. Monfret, N. Béthoux, M. Chlieh, G. Ponce Adams, J-Y. Collot, C. Martillo, K. Chunga, E. Navarrete.(2014). Tsunami mapping in the Gulf of Guayaquil, Ecuador, due to local seismicity. Marine Geophysical Researches. 35. 10.1007/s11001-014-9225-9.
Martillo, C., J-N. Proust, F. Michaud, J-Y. Collot. (2013). Pleistocene stratigraphic signature of active deformation laong the Central Ecuadorian subduction margin.
Chunga, K., N. Pazmino, C. Martillo, M. Quiñonez-Macías, F. Huaman. (2013). Estimación de máximos niveles de sismicidad para el Litoral Ecuatoriano a través de la integración de datos geológicos y sismo-tectónicos.. Revista Científica y Tecnológica UPSE. 1. 10.26423/rctu.v1i2.17.