María Isabel Timpe Vera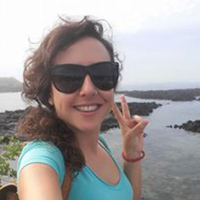 Información de Hoja de Vida
Estudios realizados:
Master of Applied Sciences Specialty in Management of Marine Protected Areas.University of Tasmania, Australia. 2014
Enviromental science degree. Universidad de Alcalá, España. 2010
Experiencia Académica:
Project Assistant Universidad San Francisco de Quito-ECOLAP. Quito-Galápagos, Ecuador. 2011-2012
Premios:
PADI: Rescue Diver (2016)
Australian Maritime College: Elements in Shipboard Safety (2013)
Experiencia Profesional:
Administrative Manager of the Program "Galapagos Marine Research and Exploration Program" ESPOL. 2017 – Present
Consultant for the Oceans and Coasts Program. WWF-Galápagos .2016
Analyst in Marine Ecosystems. Parque Nacional Galápagos. 2015-2016
Official United Nations Development Project: Programa de Pequeñas Donaciones- PPD. Quito, Ecuador. 2010-2011
Publicaciones:
Ramirez-Gonzalez J., G. Banda-Cruz, J. Moreno, D. Ovando, H. Reyes, P. Rosero, I. Timpe. (2018). "Imnlementation of a multinle indicator system for fisheries with limited information in a context of co-management", case study: Sninv lobster fisherv in the Galapagos Marine Reserve. Ocean & Coastal Management, vol. 154, pp. 20-25, 2018.
Informe Técnico del diagnóstico de la eficacia de las herramientas de control y vigilancia de la Reserva Marina de Galápagos-RMG, como insumo para promover el diseño de un sistema de acatamiento. 2016.