Maria del Pilar Cornejo Rodriguez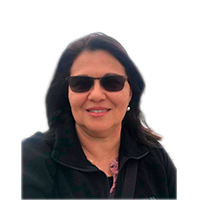 Otros Cargos:
Research FIMCM Coordinator
CIP-RRD
Scientific Committee of the Charles Darwin Foundation
Información de Hoja de Vida
Estudios realizados:
Ph.D. Meteorology and Physical Oceanography. Rosenstiel School of Marine and Atmospheric Sciences, University of Miami - USA. 2003.
M.Sc en Physical Oceanography, Oregon State University, Corvallis, Oregon, USA.1987.
B.Sc in Oceanography, Escuela Superior Politécnica del Litoral (ESPOL), Guayaquil, Ecuador. 1984.
Experiencia Académica:
Over 10 undergraduate courses in Oceanography and Aquaculture B.Sc. program. 1987-Actualidad.
Aquatic Ecology and Data Analysis Graduate Courses in Aquaculture MSc. 2000-2009.
M.Sc. and Ph.D. Committee Member and Co-Promotor (over 6, at the national and international level). 2002-2012.
Advisor of over 7 undergraduate B.Sc. Thesis. 1989-2012.
Membresía para profesionales y/o asociaciones científicas:
Member of National Meteorological and Hydrological Service Directorate, representing all Ecuadorian Universities (2016-Actualidad)
Member of Scientific Committee of the Charles Darwin Foundation. 2017.
Experiencia Profesional:
Oceanographer 1. Ecuadorian Navy Oceanographic Institute (March-June). 1984.
Research Assistant, College of Oceanography , Oregon State, Corvallis, Oregon, EUA. 1985-1987.
Full time professor at Faculty of Marine Engineering and Marine Sciences, ESPOL, Guayaquil, Ecuador. (undergraduate and graduate courses, research). 1987-Actualidad.
Secretary of Risk Management of the Republic of Ecuador, under the President of Ecuador. 2009-2015.
Director of the Pacific International Center for Disaster Risk Reduction, at ESPOL-Ecuador. 2017-Actualidad.
Actividades Profesionales, Últimos 5 años:
Investigation project. El Niño Ready Nations and Disaster Risk Reduction, lead investigator for the case study about Ecuador, under Michael Glantz-PI (Consortium for Capacity Building / INSTAAR-University of Colorado). 2016-2017.
Investigation project. Development of integrated projects and internships as cornerstones in curriculum development aiming at Joint MSc degrees. FUNDED BY VLIR-BELGIUM. with ESPOL, U. de Cuenca, U. Gent, U. Lobaina and U. Cantho. Co-PI 2009-2011.
Publicaciones:
Cornejo-Rodriguez M.P. (2017). Surf zone fauna of Ecuadorian sandy beaches: Spatial and Temporal patterns. Journal of Sea Research, 1385-1101.
Marin Jarrin J., S.L. Miño-Quezada, L. Dominguez-Granda, S. Guartatanga-Argudo, M.P. Cornejo-Rodriguez. (2015). Spatio-temporal variability of the surf-zone fauna of two Ecuadorian sandy beaches. Marine and Freshwater Research. 67. 10.1071/MF14218.
Trickey M., M.P. Cornejo-Grunauer y J. Cedeño (2009). Evaluación de la Oscilación Madden-Julian en la Predicción de Niveles de Precipitación de la Costa Ecuatoriana. Aqua-LAC 2(1), 37-44.
Bayot, B., S. Sonnenholzner, X. Ochoa, J. Guerrerro, T. Vera, J. Calderón, I. e Blas , M.P. Cornejo-Rodriguez, S. Stern, F. Ollevier. (2008). An online operational alert system for the early detection of shrimp epidemics at the regional level based on real-time production. Aquaculture. 277. 164-173. 10.1016/j.aquaculture.2008.02.035.
Zsuffa I, J. Cools, P. Vlieghe, P. Debels, A. van Griensven , A. van Dam, T. Hein, F. Hattermann, M. Masiyandima, M.P. Cornejo, R. Kaggwa and C. Baker. (2008) The WETwin project: enhancing the role of wetlands in integrated water resources management for Twinned River Basins in EU, Africa and South-America in support of EU water initiatives.
Cedeño J. y M.P. Cornejo-Grunauer (2008). Evaluation of three precipitation products on Ecuadorian coast. Presentado como póster en la 3era Conferencia Mundial de Reanálisis del World Climate Research Program (WCRP). Tokio. Enero 2008.
Cedeño J., T. De la Cuadra, K. Abata, M.A. Merizalde, M.P. Cornejo-Grunauer (2006). Diagnóstico de probabilidades de lluvias asociados a eventos del ciclo ENOS en la costa de Ecuador. In: Climate Variability and Change-Hydrological Impacts. (Proc. of the 5th FRIEND World Conference held at Havana, Cuba, November 2006). Edited by S. Demuth, A. Gustard, E. Planos, F. Scatena and E. Servat. IAHS Publ. 308, 369-374.
Cedeño J., A. Avilés, T. De la Cuadra, K. Ábata, M.P. Cornejo-Rodriguez. (2006). Ciclo anual de las corrientes marinas superficiales en el océano Pacífico oriental.
Aerts K., T. Vanagt, S. Degraer, S. Guartatanga, J. Wittoeck, N. Fockedey, M.P. Cornejo-Rodriguez, J. Calderón, M. Vincx. (2004). Macrofaunal community structure and zonation of an Ecuadorian sandy beach (Bay of Valdivia). Belg. J. Zool. 134. 17-24.
Tesis:
Tesis PHD
Tesis MSC
Tesis Oceanógrafo